Dubai, a vibrant metropolis in the United Arab Emirates (UAE), is renowned for its cultural diversity and cosmopolitan atmosphere. With a blend of various cultures and nationalities and a true melting pot of cultures, Dubai has grown into an international hub. It is famous for its extravagant skyscrapers, luxurious shopping malls, and vibrant nightlife. However, beyond the city's glitz and glamour lies a unique experience that should be on every traveller's bucket list – the Dubai Desert Safari.
Table of Contents
Activities Offered in Dubai Desert Safari
Dubai Desert Safari is a once-in-a-lifetime experience that offers various activities to suit every traveller's interests. Here are some of the activities you can expect to enjoy:
Dune Bashing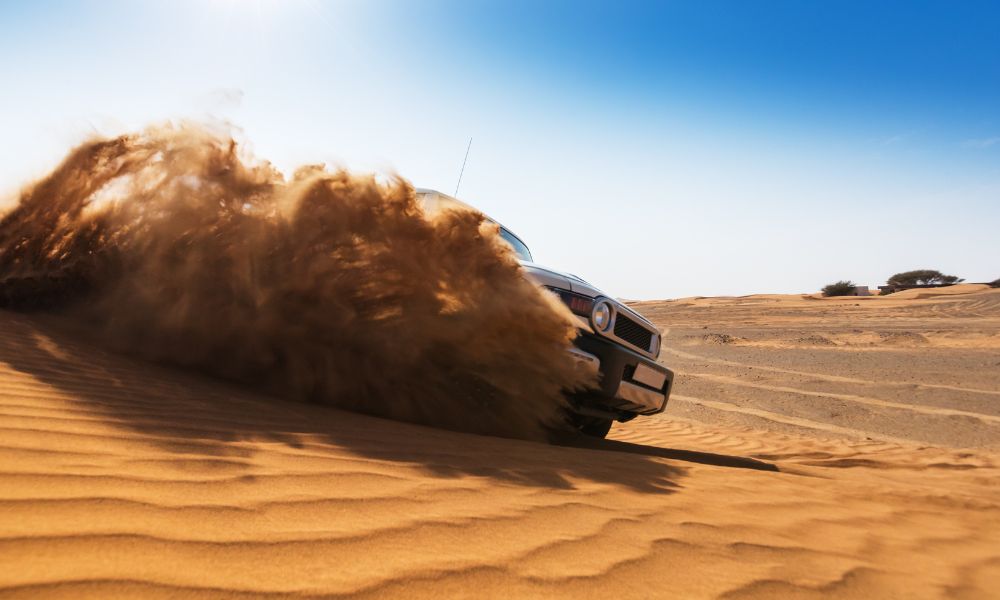 Dune bashing is a highly sought-after activity that tourists can enjoy when visiting the Dubai Desert Safari. The exhilarating experience involves riding in a 4×4 vehicle that drives at high speed over the desert sand dunes. This adrenaline-fueled activity is a must-try for thrill-seekers and those looking for an exciting adventure in the desert. Dune bashing is usually conducted during the afternoon, providing an ideal opportunity to witness the stunning sunset over the desert landscape. It is important to note that safety is a top priority during dune bashing, and tourists must always follow the instructions provided by their experienced drivers.
Camel Riding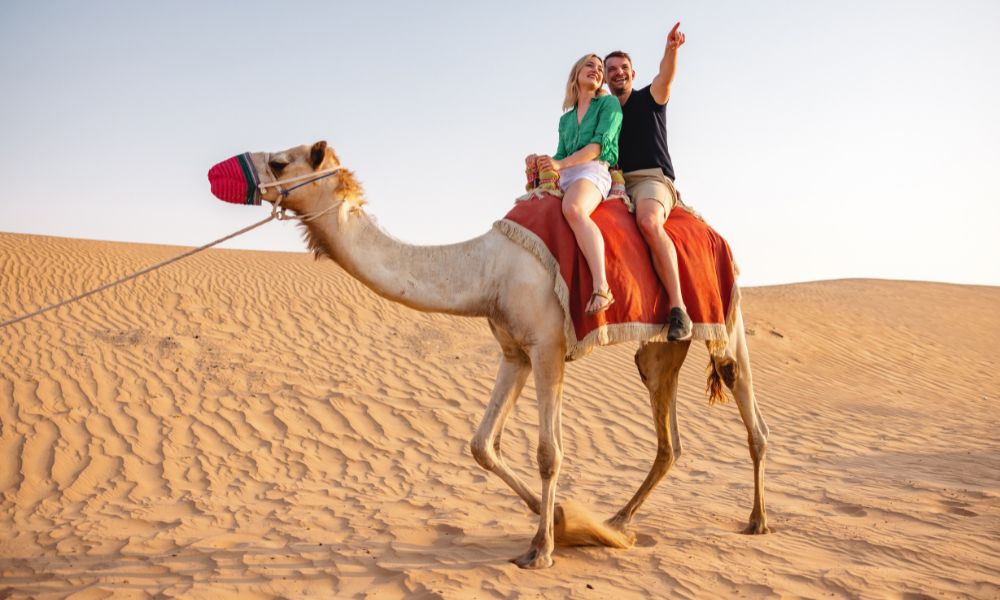 Riding a camel is an essential aspect of any desert adventure. It allows you to traverse the sandy terrain on the "desert ships" and discover the extensive stretch of the desert's scenic beauty.
Quad Biking
If you're searching for a more adrenaline-fueled activity during your Dubai Desert Safari experience, quad biking is the perfect option for you. You'll have the opportunity to ride an all-terrain vehicle (ATV) and speed through the sandy dunes for an unforgettable adventure.
Sandboarding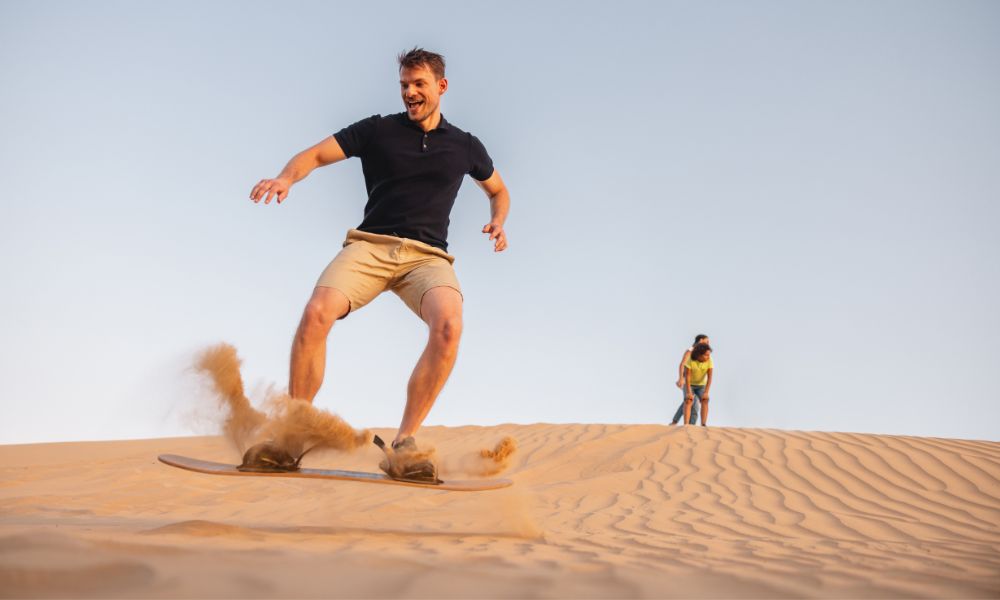 Sandboarding is a thrilling outdoor activity that is particularly popular among adventure enthusiasts. It involves sliding down steep sand dunes on a board, similar to snowboarding on snow-covered mountains.
Hot Air Balloon Rides
If you prefer a more relaxed and luxurious experience, you can opt for hot air balloon rides during your visit to the Dubai Desert Safari. You get to enjoy the spectacular views of the desert as you float over the sand dunes, and this is an unforgettable way to experience the beauty and vastness of the Dubai desert.
Experience of the Dubai Desert Safari
Besides the various activities offered, the Dubai Desert Safari is also known for its unique experience.
Night Safari
Experiencing the desert after dark is a unique and mesmerizing experience, and the night safari is an excellent way to do so. It offers a chance to witness the stars twinkling brightly in the sky and immerse yourself in the peaceful ambiance of the desert at night.
Bedouin-style Camps
Experiencing the Bedouin lifestyle is one of the highlights of a Dubai Desert Safari. The Bedouin camps, designed in traditional style, provide a glimpse into the centuries-old way of life in the desert. You can unwind in a cozy Arabic tent, savour the rich flavour of Arabic coffee paired with dates, and indulge in the aromatic smoke of shisha, a popular Middle Eastern water pipe. Indulging in this immersive experience presents a one-of-a-kind chance to delve deeper into the prosperous cultural legacy of the locality while fashioning memories that will last a lifetime.
Arabic Entertainment and Cuisine
During your Dubai Desert Safari adventure, experience a mesmerizing belly dance performance and savour a delectable Arabic dinner buffet featuring a wide range of Middle Eastern delicacies, including grilled meats, salads, and desserts.
Best Time to Visit Dubai Desert Safari
The best time to visit the Dubai Desert Safari is during the cooler months between October and April. The temperatures are more pleasant, and you can enjoy the activities without feeling too hot or uncomfortable.
Cost of Dubai Desert Safari
The cost of the Dubai Desert Safari varies depending on the package you choose. You can choose from different packages ranging from the basic evening desert safari to the luxurious desert safari when planning your Dubai Desert Safari experience. The basic package includes activities such as dune bashing, camel riding, and sandboarding, while the luxury package includes additional activities such as hot air balloon rides and a private dinner.
Tips for a Successful Dubai Desert Safari Experience
To make the most of your Dubai Desert Safari experience, here are some tips to keep in mind:
What to Wear
For the best experience during your Dubai Desert Safari, it is advisable to wear comfortable and loose-fitting clothing that provides coverage for both your arms and legs. It is advisable to refrain from wearing sandals or flip-flops and choose closed-toe shoes as a more suitable option. This will help protect your feet and ensure you can enjoy all the activities without any discomfort.
What to Bring
To ensure you have a comfortable and enjoyable experience during your Dubai Desert Safari, there are some essential items to bring along. Protecting your skin against the harmful effects of the sun's rays is crucial. Therefore, you should include sunscreen, a hat, and sunglasses in your packing list to protect you. Remember your camera; you'll also want to capture the stunning desert scenery! When the sun sets in the desert, the temperature can drop significantly, so it's advisable to pack a light jacket or sweater to keep yourself warm during the chilly evenings.
Safety Considerations
Make sure to follow the safety guidelines provided by your tour guide. It is important to wear seat belts during dune bashing and to listen to your guide's instructions.
Conclusion
The Dubai Desert Safari offers an extraordinary and unforgettable experience that every traveller should add to their itinerary. The safari boasts a variety of activities to cater to all interests and preferences, from the exhilarating dune bashing and quad biking to the serene night safari and authentic Arabic entertainment. Whether you're seeking adventure or relaxation, the Dubai Desert Safari has something for everyone, making it a must-visit destination for any avid traveller.